Welcome Buckeye Trail Fans!
The 5th Annual Buckeye TrailFest was
May 12-15, 2016
and was held in Eastern Ohio at
historic Zoar Village.

Special 2016 TrailFest Events Included:
Zero Waste Came to TrailFest!
This year we tried the Zero Waste concept at TrailFest. Zero Waste is an approach to resource management that conserves, repurposes and recycles what otherwise would be buried in a landfill, into valuable assets that contribute to environmental, economic and social well-being. The BTA received a grant from the Stark/Tuscarawas/Wayne Joint Solid Waste District to allow TrailFest to be Zero Waste.
A true zero waste event diverts 90% of all materials generated and discarded during the event from the landfill through reuse, composting, or recycling. We used compostable bamboo forks, knives, and spoons along with dinnerware made out of sugar cane. Cups and napkins were compostable, too.
OTP Trail Building Event at Camp Tuscazor
Hikers, mountain bikers, horsemen, and paddlers of the OTP provided learning on trail separation and shared use. Be a part of Historic Camp Tuscazor's Master Plan for Trail Development.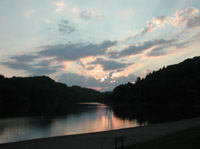 Live, Breathe and Hike Photo Contest
WHO won? Why Anita Proxmire won the triple crown! Please visit our Live, Breathe, Hike Photo Contest page on the main BTA web site for all the details!
Backpack into the Buckeye TrailFest
HIKE-IN #1
From the BTA Barn in Deersville OH – Hike leader: John Rethmann
John lead a hike into TrailFest beginning at the BTA Barn on Monday morning, May 9th, 2016.
HIKE-IN #2
Lead in Hike from Canal Fulton
Mike Fanelli and his brother Pat lead a hike from Canal Fulton into Zoar via the Buckeye Trail.
HIKE-IN #3
NCTA Lead in Hike from Minerva
The Great Trail and Sandy Beaver Chapter of the North Country Trail Association is holding a lead in hike to TrailFest. Keith Brown lead the hike from Minerva into Zoar.
******************************************************
******************************************************
TrailFest Podcast
Listen to a podcast with Steve Walker, BTA TrailFest Co-chair of the 2016 TrailFest and Andrew Bashaw, Executive Director of the BTA, who talk with Pam and Gary of WHBC-AM 1480 Canton OH about the 2016 TrailFest in Zoar.
What is the best part of a TrailFest?
The people, seeing old friends, making new friends, people coming from all over to celebrate the Buckeye Trail.
What is the second best part of TrailFest?
The locations! Each year we travel to a different portion of Ohio to show off what makes the trail special in that area. Of course it is what the people of today have accomplished, but what about the people of yesterday. So much, so little time.

Join a trail crew and help build a section of trail.
Learn from the best.
Attend the Buckeye Trail Association business meeting.
Learn how you can help.
Meet hikers and trail maintainers from around the state.
Never hike alone again!